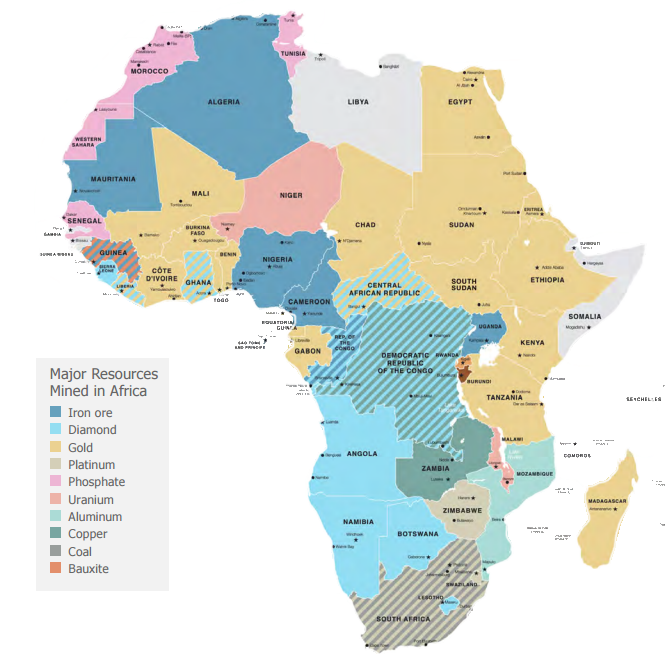 Africa is the last sizeable and investable virgin territory available to investors. The continent is rich in natural resources and in addition, the continent comprises 20% of the world's land mass. It also has a young, growing population of over one billion. The African stock markets are small but growing fast. Companies are under researched and markets show very little correlation but investors are showing increased appetite for this final frontier.
Africa at a Glance
• An abundance of commodities
• Excellent demographics
• Declining political risk
• Low level of sovereign debt
• Major steps forward in education, health and technology
• Superior GDP growth
The FMG group has a healthy growth and we recently celebrated our 25th anniversary. In growing and developing our offerings, we are currently streamlining the number of funds and share classes offered. Following the receipt of a material redemption, we took a...
read more
FMG (EU) Africa Fund lost 0.5% in the 2nd Quarter of 2017 Kenya was the top performing market in the second quarter, rallying 18% on the back of telecom giant Safaricom reporting impressive growth numbers. Mauritius gained +17%, boosted by the tier 1 bank...
read more
The FMG Africa Fund provides access to the fastest growing parts of Africa, thus differentiating itself from traditional Africa funds which largely focus on South Africa and offshore listed companies with operations in Africa. The investment objective is to achieve long term capital appreciation from underlying portfolios of equities, predominantly listed in Sub-Saharan Africa. The fund utilizes a multi-manager approach, providing diversification geographically and among industry sectors.
Managers are selected based on their proven expertise in African equities. The fund is actively managed, with FMG applying both a top down macro and a long term quantitative model to determine allocations, including cash levels. FMG considers risk management an integral element of the portfolio management process. The opportunistic nature of the fund targets investors with a higher risk-reward return profile.
Investment Profile
Investment Focus
Investment Objective
Investment Horizon
Risk Level
Management
Fund Structure
Fund Type
Inception
Base Currency
Currency Classes
Frontier Markets
Sub-Saharan Africa
African Equities
3-5 Years
High
Multi Managed
SICAV
AIF
2007
USD
USD, EUR, GBP, SEK, NOK
Dealing
Prenotice (Sell)
Cut-off Time
Annual Management Fee
Performance Fee
Income Distribution
Domicile
Regulator
Custodian
Administrator
Audit
Monthly
30 Business Days
5:00PM CET
Class A&L: 2%, B: 1.5%
Class A&L: 20%, B: 10% HWM
Accumulation
Malta
MFSA
REYL
Apex Fund Services
Deloitte
Inquiring more information - Africa Fund
Prices/NAV's
Share prices and ISIN codes for all currency- and fund classes
Disclaimer: FMG (MALTA) Ltd. ("FMG") is licensed by the Malta Financial Services Authority ("MFSA") as a category 2 Investment Services Provider as provided in the Investment Services Act Chapter 370 of the Laws of Malta. FMG is authorized to act as a full scope alternative investment fund manager ("AIFM") in terms of Directive 2011/61/EU of the European Parliament and of the Council on alternative investment fund managers ("AIFMD"). This summary is for information purposes only and does not constitute an offer to sell or a solicitation to buy. Citizens or residents of the United States and India may not invest in these Funds. All Funds may not be marketed to Swiss citizens or residents except those considered as "regulated qualified investors" by the Swiss Collective Investment Schemes Act and the Swiss Collective Investment Schemes Ordinance. All Funds are not to be marketed to EU or EEA investors. Investors who wish to obtain information on these funds will only be provided any such materials upon receipt of an appropriate reverse solicitation request in accordance with the requirements of the EU AIFM Directive, Swiss Law and/or national law in their home jurisdiction. Opinions and estimates constitute the manager's judgment and are subject to change without notice. Past performance is not indicative of future results. Investments in Emerging Markets should be considered high risk where a portion or total loss of capital is conceivable. No assurance can be given that the investment objective will be achieved or that an investor will receive a return of all or part of his/her initial capital, and investment results can fluctuate substantially over any given time period. Please refer to the relative fund's prospectus which contains brief descriptions of certain risks associated with investing in the fund. FMG funds or third-party funds marketed by FMG are aimed at experienced investors and you have to ensure you are able to invest in such funds. Questions should be directed to your local representative or financial advisor. This document may not be reproduced, distributed, or published for any purpose without the prior written consent of the manager. All information contained in this communication is as provided by FMG (MALTA) Ltd. Copyright (C) 2017 FMG. All rights reserved. Above chart: FMG (EU) Africa Fund B ISIN MT0000076878, MSCI EM Index, MSCI FM Africa Index (USD) 2014-06-30 to 2017-06-30, data source: Bloomberg. Exposure chart is updated July 2017, data source: FMG