THE WORLD'S FASTEST GROWING ECONOMIES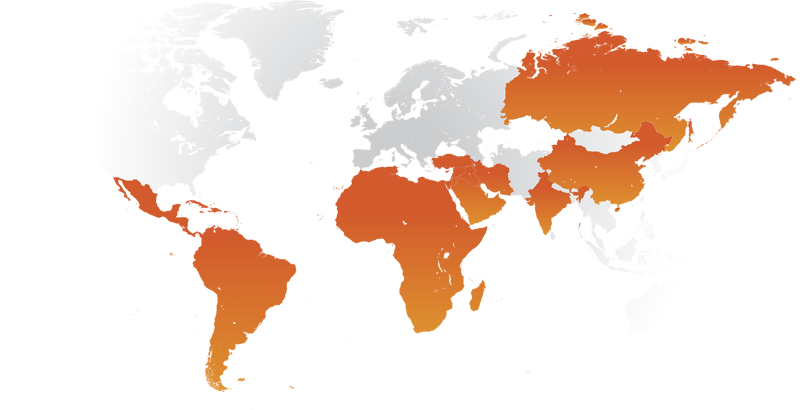 The FMG Rising 6 Fund aims to attain exposure to the world's fastest growing economies which include: Asia/China, India, Russia, the Middle East, Africa and Latin America. These countries and regions are growing at a much faster rate than developed economies. They make up more than 50% of global growth, but only represent 20% of the world's stock market capitalisation.
Rising 6 at a Glance
• Sustainable economic growth, greater than developed economies
• Nearly 4 billion people, some 60% of the global population
• Covers about half the world's land mass
• A majority of the population is under the age of 25
• Growing middle class with increasing appetite for consumer goods
Main takeaways from our visits to Moscow and St Petersburg Russia remains at the top of the world's low cost producers of oil (est. cost $4/barrel) and gas thanks to the decline in Ruble and revenue in US $. Given the massive devaluation of the Ruble, Russia is able...
read more
Russia

20%

India

20%

Latin America

19%

Africa

13%

China

12%

MENA

11%

Cash

5%
The Fund's objective is to capture the mid to long term growth potential using top-down macro analysis and long term quantitative timing models for the six economies identified in the FMG Rising 6 Fund namely; Asia/China, India, Russia, Africa, the Middle East and Latin America. The investment manager applies timing models to determine allocations between the regions. A lower limit of 10% and upper limit of 25% will be utilized for any of the six target areas.
The Fund is well diversified geographically and among industry sectors. FMG considers diversification and fund liquidity an integral element of the portfolio management process. The Fund is open to retail investors, daily traded and UCITS compliant, making it an ideal investment for a broad exposure to emerging markets.
Investment Profile
Investment Focus
Investment Objective
Investment Horizon
Risk Level
Management
Fund Structure
Fund Type
Inception
Base Currency
Currency Classes
Minimal Init. Investment
Emerging Markets
RIC, Africa, MENA & LatAm
Listed Equities
3-5 Years
High
Multi Managed
SICAV
UCITS IV
2011
USD
USD, EUR, GBP, SEK, NOK, JPY
Class: R USD 100, I USD 1,000,000
Dealing
Prenotice (Buy)
Prenotice (Sell)
Cut-off Time
Load Fee
Annual Management Fee
Income Distribution
Domicile
Regulator
Custodian
Administrator
Audit
Daily
1 Business Day
1 Business Day
4:00PM CET
Up to 5%
Class R: 1.75%, B: 1.0%
Accumulation
Luxembourg
CSSF
ING
Apex Fund Services
Deloitte
Key Investor Information Document (KIID) R EUR
Documents for fund classes R & I in USD, EUR, GBP, SEK, NOK and JPY are available in English and Swedish. Inquire below
Download
Inquiring more information or subscription details - Rising 6 Fund
Disclaimer (EU) : This summary is for information purposes only and does not constitute an offer to sell or a solicitation to buy. Citizens or residents of the United States and India may not invest in these Funds. All Funds may not be marketed to Swiss citizens or residents except those considered as "regulated qualified investors" by the Swiss Collective Investment Schemes Act and the Swiss Collective Investment Schemes Ordinance.  Investors who wish to obtain information on these funds will only be provided any such materials upon receipt of an appropriate reverse solicitation request in accordance with the requirements of Swiss law.  Opinions and estimates constitute the manager's judgment and are subject to change without notice. Past performance is not indicative of future results. Investments in Emerging Markets should be considered high risk where a portion or total loss of capital is conceivable. No assurance can be given that the investment objective will be achieved or that an investor will receive a return of all or part of his/her initial capital, and investment results can fluctuate substantially over any given time period. Please refer to the relative Fund's prospectus which contains brief descriptions of certain risks associated with investing in the fund. FMG funds or funds marketed by FMG are aimed at experienced investors and you have to fit in this category to be able to invest in such funds. Questions should be directed to your local representative or financial advisor. This document may not be reproduced, distributed, or published for any purpose without the prior written consent of the manager. Return chart: FMG (EU) Rising 6 Fund R LU0574464128, MSCI EM Index, MSCI BRIC Index (USD) 2013-12-30 to 2016-12-30, data source: Bloomberg. Exposure chart is updated January 2017, data source: FMG. Source: The World Bank, CIA World Fact Book. Copyright (C) FMG 2017. All rights reserved.