Vietnam Market Cap (USD bn)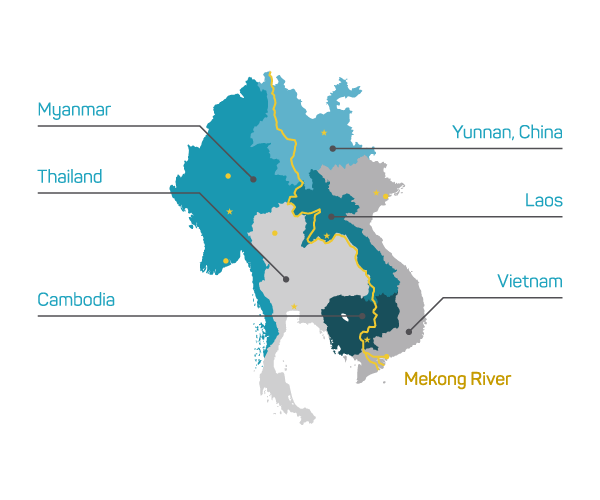 The Fund will normally be constructed with four different return time horizons. Approximate percentage of its gross value will be applied to each of the following: 35% short-term trading, 35% medium-term value, 20% strategic value investments and 10% alternative investments (mainly restructuring and pre-IPO issues). Gross long position can be up to 150% and gross short position up to minus 100%. Net long position ranges between zero to a maximum of 100%, a net short position would be unusual and be limited to net minus 50% of the portfolio value. Single country exposure is limited to 25% and single industry sector exposure kept within 35% taking account of all region-wide holdings.

Asian Markets see-sawed in February, as investors locked in gains and worried about interest rates, with the Hang Seng Index -6.2%, MSCI Asia ex Japan Index -5.0%, MSCI AC ASEAN -1.5%, Thai SET Index -0.2%, Mekong Fund +0.1%. Markets corrected in February, following...
read more
Knight Mekong Fund is a directional long equity fund, aiming to provide investors with medium to long-term capital appreciation from a managed portfolio of mainly quoted securities on stock exchanges in Mekong Region. The Fund emphasizes value investing in Mekong Region markets(Cambodia, Laos, Myanmar, and Vietnam, including Mekong Company listed outside the region such as Hong Kong and Singapore with particular emphasis on industries which have developed successfully in Thailand, and industries/companies benefiting from AEC and Thai/Mekong integration), and South Asia. The Fund strives to achieve reasonably low volatility (given the nature of Asian emerging markets, some volatility is inevitable), and out-performance over both absolute and relative benchmarks (e.g. MSCI Asia Ex Japan Index).
Cash

31%

Myanmar

24%

Thailand

18%

Cambodia

17%

Laos

5%

Vietnam

4%

Hong Kong

2%
Investment Profile
Investment Focus
Investment Objective
Investment Horizon
Risk Level
Management
Fund Structure
Fund Type
Inception
Base Currency
Currency Classes
Minimal Init. Investment
Frontier Markets
Mekong Region
Listed and pre-IPO Equities
3-5 Years
High
Luxembourg Fund Partners
SICAV
AIF/SIF
2013
USD
USD
USD eq. of EUR 125.000 for direct investments or lower when dealt via »»
Dealing
Prenotice (Buy)
Prenotice (Sell)
Cut-off Time
Back End Load Fee
Annual Management Fee
Performance Fee
Custodian Fee
Domicile
Regulator
Custodian
Administrator
Audit
Monthly
2 Business Days
30 Calendar Days
16:00 CET
5%/5 Years
2%
20% above 6%, HWM
0.1% p.a. Plus Transaction Fees
Luxembourg
CSSF
KBL European Private Bankers
European Fund Administration
PwC
Inquiring more information or subscription details - Mekong Fund
Disclaimer: FMG (MALTA) Ltd. ("FMG") is licensed by the Malta Financial Services Authority ("MFSA") as a category 2 Investment Services Provider as provided in the Investment Services Act Chapter 370 of the Laws of Malta. FMG is authorized to act as a full scope alternative investment fund manager ("AIFM") in terms of Directive 2011/61/EU of the European Parliament and of the Council on alternative investment fund managers ("AIFMD"). This summary is for information purposes only and does not constitute an offer to sell or a solicitation to buy. Citizens or residents of the United States and India may not invest in these Funds. All Funds may not be marketed to Swiss citizens or residents except those considered as "regulated qualified investors" by the Swiss Collective Investment Schemes Act and the Swiss Collective Investment Schemes Ordinance. All Funds are not to be marketed to EU or EEA investors. Investors who wish to obtain information on these funds will only be provided any such materials upon receipt of an appropriate reverse solicitation request in accordance with the requirements of the EU AIFM Directive, Swiss Law and/or national law in their home jurisdiction. Opinions and estimates constitute the manager's judgment and are subject to change without notice. Past performance is not indicative of future results. Investments in Emerging Markets should be considered high risk where a portion or total loss of capital is conceivable. No assurance can be given that the investment objective will be achieved or that an investor will receive a return of all or part of his/her initial capital, and investment results can fluctuate substantially over any given time period. Please refer to the relative fund's prospectus which contains brief descriptions of certain risks associated with investing in the fund. FMG funds or third-party funds marketed by FMG are aimed at experienced investors and you have to ensure you are able to invest in such funds. Questions should be directed to your local representative or financial advisor. This document may not be reproduced, distributed, or published for any purpose without the prior written consent of the manager. All information contained in this communication is as provided by FMG (MALTA) Ltd. Return chart: The Mekong Fund ISIN LU0903793569, MSCI EM Index, MSCI FM Index (USD). Data source: Bloomberg. Exposure chart is updated January 2018 when the fund was about 70% invested. Data source: Siam Knight Fund Management. Copyright 2018 (C) FMG. All rights reserved.