Dear Friends,
The second quarter of 2016 was particularly strong, seeing most equity markets ending in positive territory both for the quarter and on a year to date basis. Risk on appetite definitely increased with the market rout that engulfed equities in January seeming a distant memory by now.
Undoubtedly, the key political event in Q2 was the UK vote whereby the voters elected to leave the European Union. This was a fat tail risk and very few investors expected it. Though the "Remain" camp painted a doomsday scenario for financial markets, and despite the sell-off the day after the vote, markets shrugged this event to be a mere blip in the whole financial market landscape rather than a catalyst for an equity correction. The clear winners are the lawyers, who will have a field day re-writing legislative documents to cater for this event. The losers have undoubtedly been the British political landscape as well as the Sterling.
Indeed, we find it amusing how the BREXIT vote has become a political football domestically in the UK and across the Channel on the continent. We let the numbers speak for themselves, and below you will find how the key equity markets performed in the week after BREXIT.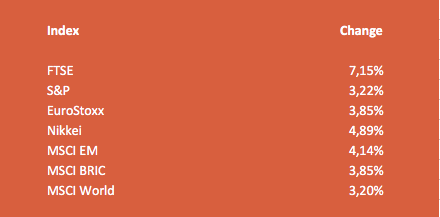 What does this mean to Emerging and Frontier Markets? Not much really. We had already predicted that whatever the outcome of BREXIT, it will be a second or even third derivative event for EM and FM. We reiterate this view and we gladly note that the way markets reacted in the aftermath justifies our view. Indeed, we are happy to note that, finally, EM and FM is producing very good returns without the volatility or drawdown which is traditionally accustomed to these markets.
We therefore invite investors once again to look at our funds as the obvious choice for their EM exposure. Taking a 3-year view, EM have significantly underperformed mainstream markets and we believe never has there been a more opportune time to step right back into these markets.